Full color pull up cords - No minimum order - Soft polyester - 303-519-8968 - email: info@nshannon.com
Skydivers! Custom pull up cords Width is 15mm", length 32". I can print any logo, name, phone number, e-mail address, etc. that will fit into the 17" wide printable area, in full color on the white material. Whatever you'd like to see printed on the p-cords-just ask...I can do it!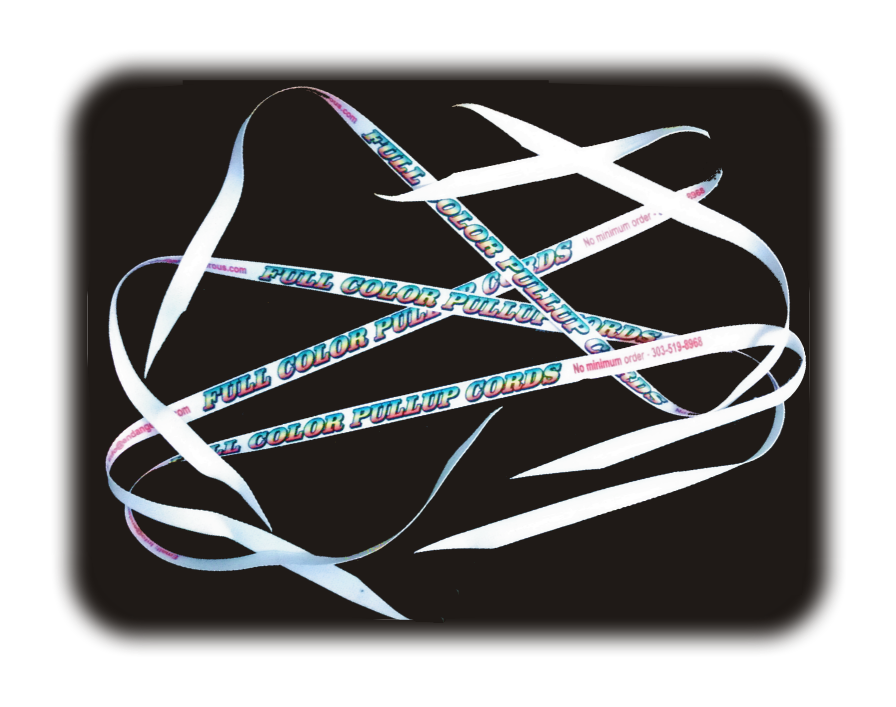 I'll e-mail you a color proof for approval prior to printing. I've been in the pullup cord business for many years and recently began offering the full color option. Soft woven polyester material is easy on your hands and on closing loops. To order, please e-mail info@endangerous.com and let me know what you'd like printed. If you have a logo you'd like to include, please send it as a high resolution or vector file for best results.


PRICING (print on one side)
Set up charge: $15

Up to 100: 78¢ each
100-199: 71¢ each
200-299: 66¢ each
300-399: 64¢ each
500-Up: 62¢ each

Back print (optional:) 100: 35¢; 200: 33¢; 300: 30¢; 400: 28¢; 500+: $27¢ (Same image as front. For different image on back please add one time charge of $15.)

Shipping 100: $9.50; Each additional 100: $2.50
NON PRINTED GENERIC PULLUP CORDS: CLICK HERE

---
Telephone: 303-519-8968

E-mail me! - Staff
5611 Kendall Ct Arvada Colorado 80002
"I ship anywhere!"